Mr. Rockefeller's Roads
If Acadia National Park is the crown jewel of the national park system, the carriage roads are the crown jewel of the park. They are a hidden treasure that many park visitors never discover even after an extended stay on Mount Desert Island. That's because the roads were carefully planned by John D. Rockefeller, Jr. to blend in so harmoniously with their natural surroundings as to be invisible, or nearly so, from most vantage points.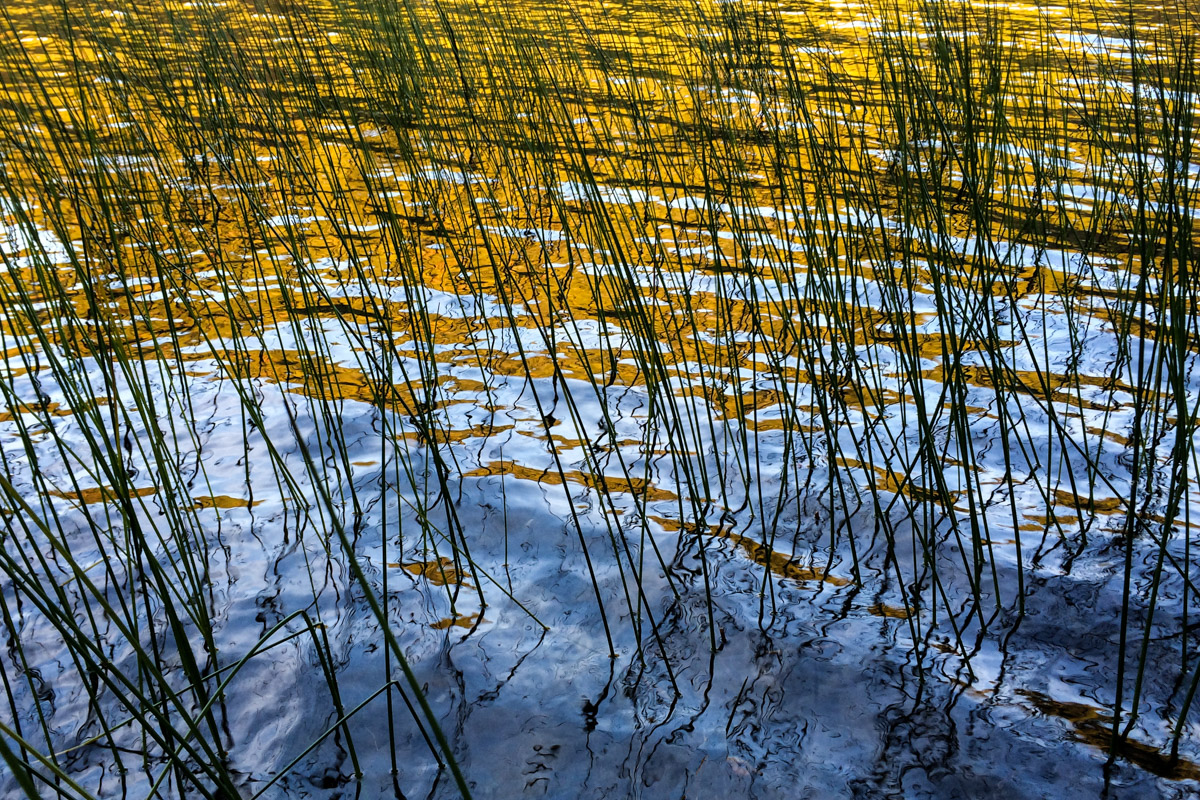 Those who know the carriage roads are endlessly fascinated and enchanted by them. Every mile is different on any given day depending on the season, the hour, and the weather. Brave a walk during a pouring rain when the carriage roads reveal their secret and ingenious drainage system that you wouldn't know exists on a dry day. Ride a bike at sunset in October for the most glorious autumn experience you could hope to have. Bundle up for a ski or snowshoe after a blizzard to experience a winter wonderland complete with fairytale-like bridges and ice sculptures affixed to rock outcroppings on the side of the road.
When traveling the carriage roads, be sure to bring your camera because you are bound to see something worthy of a photograph. The reeds in water image above was taken along the Bubble Pond section of carriage road. The reflection is of fall leaves on Cadillac Mountain at sunset. The photograph of a bicyclist at the bottom of this page was taken on the section of carriage road between intersections 16 and 17 in October.
Learn more about the carriage roads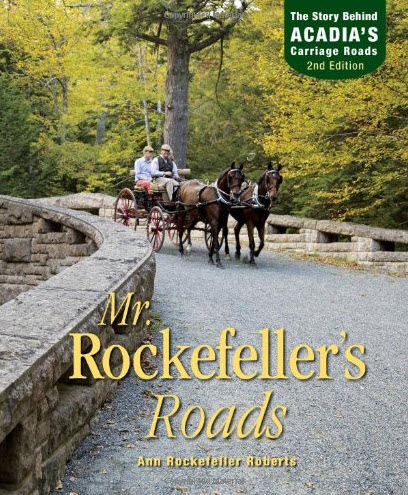 While much has been written about the carriage roads, the best in depth book about their history and construction is
Mr. Rockefeller's Roads
by Ann Rockefeller Roberts, the granddaughter of John D. Rockefeller, Jr. This 250 page large-format book is a must-read for anyone who wants to know how the carriage roads came to be. It is well written, is full of both historic and contemporary photographs, has an extensive bibliography and chapter notes, and even contains an appendix listing the trees, shrubs, and perennials chosen for Mr. Rockefeller by landscape architect Beatrix Farrand.
Exploring with RouteFinder
RouteFinder can help you take your carriage road exploration to the next level. Though you may think you know every route, you don't because the number of ways to get from one point to another are virtually countless. Try using RouteFinder with different combinations of starting and ending points using different distances and
route finding algorithms
to see what RouteFinder surprises you with. Then pick a route and get out there and enjoy the jewel of jewels, Mr. Rockefeller's Roads.