Using RouteFinder
RouteFinder is easy and fun to use.
Just follow the steps below.
Press the Get Started button to choose your mode of travel: walk, bike, ride a horse, or ski. The mode determines where you can get onto the carriage roads and which roads you can use.

Decide where to start, how far to go, and whether you want to travel one-way or make a round trip.

Press the Find Routes button to search for routes and see them on a map. If RouteFinder can't find a route that exactly matches your criteria, it will suggest the closest match.
Pick a route and press the Directions button to get turn-by-turn directions that you can print. You can bookmark the Directions page in your browser and even create separate bookmarks for different routes. You can send a link to the directions to your friends.
Below is a screenshot showing a route and directions created by RouteFinder.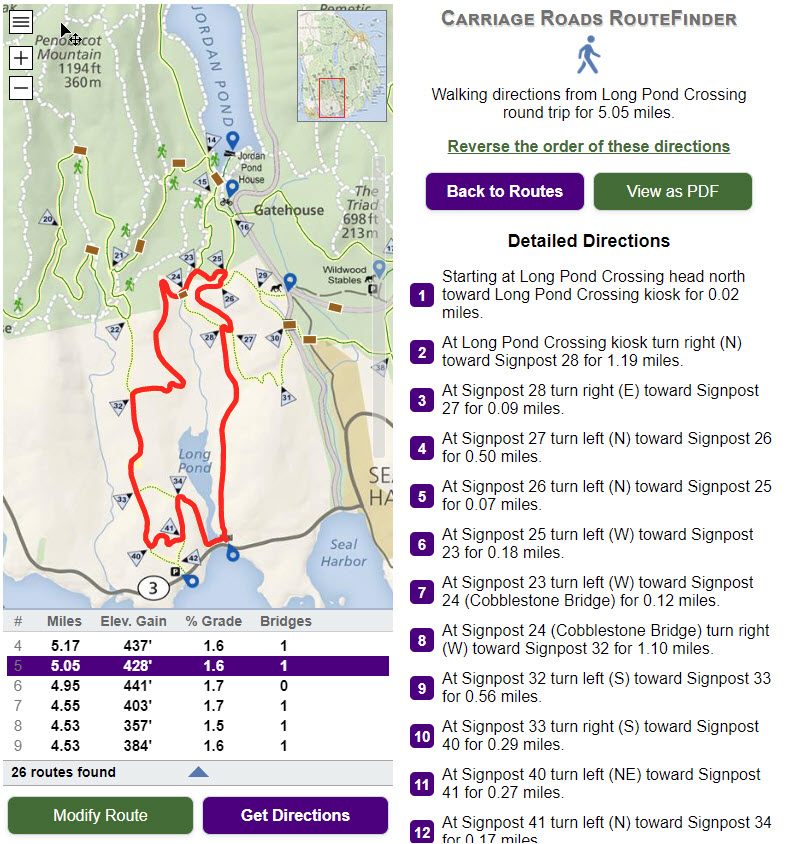 Tips for using RouteFinder
Set the maximum distance to be no longer than you expect to travel. If you set it too high, you may get a long list of routes that are close to that distance and few or none that are much shorter.
If the routes you get don't include a segment of carriage road that you would like to go on, choose a waypoint that is within that segment such as a signpost number or a bridge.
To travel a route in the opposite direction, click the "Reverse the order of these directions" link at the top of the Directions page. This will, for example, change the path of a loop from clockwise to counterclockwise.
Quick Turns
Quick Turns are a special feature of RouteFinder that provide concise directions that you can use for hands-free navigation. As you approach an intersection while running or biking, a quick glance at the quick turns tells you whether to go left of right without having to stop to look at the map or read the detailed directions. The quick turns for the detailed directions above are shown below.